In this Newsletter you will Discover...
Things That Go Bump In The Night!
Our Offering to Pele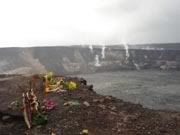 Planetary Doings
New Moon in Scorpio on Tuesday, Oct. 28, 4:14 PM (PST). Sun and Moon joined at 5.54 Scorpio. Samhain, the cross quarter festival midway between the Fall Equinox and Winter Solstice.

November 1, Neptune turns direct on the Day of the Dead.

The gateways to the other worlds open wide during these four days. Now is the time to unmask the Shadow Self. For those of you who have taken the Lessons of the Shamanic Masters™, this is a perfect time to do the "Smoking Mirror" of the Aztecs.

Just Remember!
Due to our kahuna's schedule, we have changed the dates of Level 1 of Lessons of Shamanic Masters©.


Instead of Nov. 29 - Dec. 3, it will now be Dec. 2 - Dec. 7, 2008.

This will allow Lopaka to be with us all day for our Field Trip to the sacred spots of the island.

To Sign up for Lessons of the Shamanic Masters© or to find out more please

click here

!
Things That Go Bump In the Night!
Dear Reader,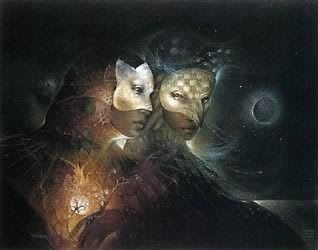 Things That Go Bump In The Night!
On October 28, as we approach the festival of All Hallows Eve or Samhain (Halloween), we come into the astrological New Moon in Scorpio. The time when the veils between the seen and the unseen are the thinnest.

And the time when all over town goblins and ghosties and ghoulies are knocking at doors. We tend to think of Halloween costumes as just something that kids wear one day of the year and then put away.

Have you ever thought about the costumes or masks that most of us wear all year long? Since All Hallows Eve is really about unmasking the shadow self, I thought it might be fun to expose some of these characters in hiding.
Here's a few:
Vampire: This person sucks the energy right out of you. After being around "Dracula", you feel like you need a nap! But they seem to have more energy.

PigPen: Remember the Charles Shultz character who always had a cloud of dust over his head? People like this carry a cloud of negativity of doom and gloom. There's always something wrong. Talk with them for about 5 minutes and your good mood is starting to look a little gray.

The Minotaur: This one is so bull headed that it's like talking to a brick wall. And if you disagree, watch out or he may run right over you.

Pitiful Pearl: She's so pitiful that you've just got to love her--don't you? Everything has happened to this one and keeps on happening. Maybe she's the karma deflector if you stand close enough to her.

The Judge: There's always something not quite good enough as far as this person is concerned. Don't expect any kudos here. Beat him to the punch and tell him how bad it is before he gets the chance.
On the bright side, there are some great characters hiding out in the most "ordinary" people:
The Angel: He/She is there when we need a helping hand and never asks for rewards. This one gets her wings by doing something nice for others.

Cheerleader: Whenever you need a boost to your morale or self-esteem, here comes the Cheerleader. And they mean what they say. Notice how you feel better after being around them.

Friend: Always there when you need them. Fun to be with and someone you can tell anything to. Hopefully there's more than one of these in your life.

The Devil: At first we might think this one is negative until we realize that he's just our mirror letting us know what's going on within us. If given the chance, tell him thanks.

Jester: Without this guy, we might never think to do something so spontaneous and fun. This person is the life of the party. Situations just seem to brighten up when he comes around.

So, do you recognize yourself in any of these? And if so, are you happy with what you see? Sometimes it's good to look at the character(s) we're playing out in our life. We might want to change costumes or masks! After all, we get to choose who we want to be every single day.

Hope you have a grand All Hallows Eve!

______________________
___________________________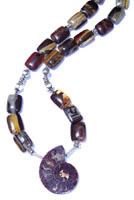 Orders for Jewelry
If you're going to the Lessons of the Shamanic Masters™ this December
and want to have a piece of jewelry
"custom designed", go to www.spiritsmuse.com/jewelry.
Or email us at megan@spiritsmuse.com. We can get these made for you and brought to the training if you order soon.
_________________________________________________